(source)

Albert Einstein

(14 Mar 1879 - 18 Apr 1955)




As far as the laws of mathematics refer to reality, they are not certain; and as far as they are certain, they do not refer to reality.

— Albert Einstein

Do not worry about your difficulties in Mathematics. I can assure you mine are still greater.

— Albert Einstein

God does not care about our mathematical difficulties. He integrates empirically.

— Albert Einstein

Here arises a puzzle that has disturbed scientists of all periods. How can it be that mathematics, being after all a product of human thought which is independent of experience, is so admirably appropriate to the objects of reality? Is human reason, then, without experience, merely by taking thought, able to fathom the properties of real things?

— Albert Einstein

In the beginning (if there was such a thing), God created Newton's laws of motion together with the necessary masses and forces. This is all; everything beyond this follows from the development of appropriate mathematical methods by means of deduction.

— Albert Einstein

In the judgment of the most competent living mathematicians, Fraulein Noether was the most significant mathematical genius thus far produced since the higher education of women began.

— Albert Einstein

It is difficult even to attach a precise meaning to the term "scientific truth." So different is the meaning of the word "truth" according to whether we are dealing with a fact of experience, a mathematical proposition or a scientific theory. "Religious truth" conveys nothing clear to me at all.

— Albert Einstein

Our experience up to date justifies us in feeling sure that in Nature is actualized the ideal of mathematical simplicity. It is my conviction that pure mathematical construction enables us to discover the concepts and the laws connecting them, which gives us the key to understanding nature… In a certain sense, therefore, I hold it true that pure thought can grasp reality, as the ancients dreamed.

— Albert Einstein

Pure mathematics is, in its way, the poetry of logical ideas. One seeks the most general ideas of operation which will bring together in simple, logical and unified form the largest possible circle of formal relationships. In this effort toward logical beauty spiritual formulas are discovered necessary for the deeper penetration into the laws of nature.

— Albert Einstein

The formulation of a problem is often more essential than its solution, which may be merely a matter of mathematical or experimental skill. To raise new questions, new possibilities, to regard old problems from a new angle requires creative imagination and marks real advances in science.

— Albert Einstein

The importance of C.F. Gauss for the development of modern physical theory and especially for the mathematical fundament of the theory of relativity is overwhelming indeed; also his achievement of the system of absolute measurement in the field of electromagnetism. In my opinion it is impossible to achieve a coherent objective picture of the world on the basis of concepts which are taken more or less from inner psychological experience.

— Albert Einstein

The present theory of relativity is based on a division of physical reality into a metric field (gravitation) on the one hand and into an electromagnetic field and matter on the other hand. In reality space will probably be of a uniform character and the present theory will be valid only as a limiting case. For large densities of field and of matter, the field equations and even the field variables which enter into them will have no real significance. One may not therefore assume the validity of the equations for very high density of field and matter, and one may not conclude that the 'beginning of the expansion' must mean a singularity in the mathematical sense. All we have to realise is that the equations may not be continued over such regions.

— Albert Einstein

There exists a passion for comprehension, just as there exists a passion for music. That passion is rather common in children but gets lost in most people later on. Without this passion, there would be neither mathematics nor natural science.

— Albert Einstein

[Kepler] had to realize clearly that logical-mathematical theoretizing, no matter how lucid, could not guarantee truth by itself; that the most beautiful logical theory means nothing in natural science without comparison with the exactest experience. Without this philosophic attitude, his work would not have been possible.

— Albert Einstein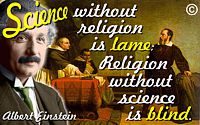 "Galileo Facing the Roman Inquisition," by Christiano Banti.
(source)