(source)

Albert Einstein

(14 Mar 1879 - 18 Apr 1955)




I am absolutely convinced that no wealth in the world can help humanity forward, even in the hands of the most devoted worker. The example of great and pure individuals is the only thing that can lead us to noble thoughts and deeds. Money only appeals to selfishness and irresistibly invites abuse. Can anyone imagine Moses, Jesus or Gandhi armed with the moneybags of Carnegie?

— Albert Einstein

I am quite aware that we have just now lightheartedly expelled in imagination many excellent men who are largely, perhaps chiefly, responsible for the buildings of the temple of science; and in many cases our angel would find it a pretty ticklish job to decide. But of one thing I feel sure: if the types we have just expelled were the only types there were, the temple would never have come to be, any more than a forest can grow which consists of nothing but creepers. For these people any sphere of human activity will do, if it comes to a point; whether they become engineers, officers, tradesmen, or scientists depends on circumstances.

— Albert Einstein

I believe in intuition and inspiration. Imagination is more important than knowledge. For knowledge is limited, whereas imagination embraces the entire world, stimulating progress, giving birth to evolution. It is, strictly speaking, a real factor in scientific research.

— Albert Einstein

I cannot imagine a God who rewards and punishes the objects of his creation, whose purposes are modeled after our own–a God, in short, who is but a reflection of human frailty. Neither can I believe that the individual survives the death of his body, although feeble souls harbor such thoughts through fear or ridiculous egotism. It is enough for me to contemplate the mystery of conscious life perpetuating itself through all eternity, to reflect upon the marvelous structure of the universe which we can dimly perceive, and to try humbly to comprehend even an infinitesimal part of the intelligence manifested in nature.

— Albert Einstein

If you want to find out anything from the theoretical physicists about the methods they use, I advise you to stick closely to one principle: don't listen to their words, fix your attention on their deeds. To him who is a discoverer in this field the products of his imagination appear so necessary and natural that he regards them, and would like to have them regarded by others, not as creations of thought but as given realities.

— Albert Einstein

If you wish to learn from the theoretical physicist anything about the methods which he uses, I would give you the following piece of advice: Don't listen to his words, examine his achievements. For to the discoverer in that field, the constructions of his imagination appear so necessary and so natural that he is apt to treat them not as the creations of his thoughts but as given realities.

— Albert Einstein

In every true searcher of Nature there is a kind of religious reverence, for he finds it impossible to imagine that he is the first to have thought out the exceedingly delicate threads that connect his perceptions.

— Albert Einstein

It seems to me that the idea of a personal God is an anthropological concept which I cannot take seriously. I also cannot imagine some will or goal outside the human sphere has been cited as a statement that precedes the last three sentences here, but this might have originated in a paraphrase, a transcription error, or a misquotation; it does not appear in any editions of the essay which have thus far been checked.

— Albert Einstein

It was my good fortune to be linked with Mme. Curie through twenty years of sublime and unclouded friendship. I came to admire her human grandeur to an ever growing degree. Her strength, her purity of will, her austerity toward herself, her objectivity, her incorruptible judgement—all these were of a kind seldom found joined in a single individual… The greatest scientific deed of her life—proving the existence of radioactive elements and isolating them—owes its accomplishment not merely to bold intuition but to a devotion and tenacity in execution under the most extreme hardships imaginable, such as the history of experimental science has not often witnessed.

— Albert Einstein

Knowledge is limited. Imagination encircles the world.

— Albert Einstein

Physical concepts are free creations of the human mind, and are not, however it may seem, uniquely determined by the external world. In our endeavour to understand reality we are somewhat like a man trying to understand the mechanism of a closed watch. He sees the face and the moving hands, even hears its ticking, but he has no way of opening the case. If he is ingenious he may form some picture of a mechanism which could be responsible for all the things he observes, but he may never be quite sure his picture is the only one which could explain his observations. He will never be able to compare his picture with the real mechanism and he cannot even imagine the possibility or the meaning of such a comparison. But he certainly believes that, as his knowledge increases, his picture of reality will become simpler and simpler and will explain a wider and wider range of his sensuous impressions. He may also believe in the existence of the ideal limit of knowledge and that it is approached by the human mind. He may call this ideal limit the objective truth.

— Albert Einstein

Still there are moments when one feels free from one's own identification with human limitations and inadequacies. At such moments, one imagines that one stands on some spot of a small planet, gazing in amazement at the cold yet profoundly moving beauty of the eternal, the unfathomable: life and death flow into one, and there is neither evolution nor destiny; only being.

— Albert Einstein

The formulation of a problem is often more essential than its solution, which may be merely a matter of mathematical or experimental skill. To raise new questions, new possibilities, to regard old problems from a new angle requires creative imagination and marks real advances in science.

— Albert Einstein

We all know, from what we experience with and within ourselves, that our conscious acts spring from our desires and our fears. Intuition tells us that that is true also of our fellows and of the higher animals. We all try to escape pain and death, while we seek what is pleasant. We are all ruled in what we do by impulses; and these impulses are so organized that our actions in general serve for our self preservation and that of the race. Hunger, love, pain, fear are some of those inner forces which rule the individual's instinct for self preservation. At the same time, as social beings, we are moved in the relations with our fellow beings by such feelings as sympathy, pride, hate, need for power, pity, and so on. All these primary impulses, not easily described in words, are the springs of man's actions. All such action would cease if those powerful elemental forces were to cease stirring within us. Though our conduct seems so very different from that of the higher animals, the primary instincts are much alike in them and in us. The most evident difference springs from the important part which is played in man by a relatively strong power of imagination and by the capacity to think, aided as it is by language and other symbolical devices. Thought is the organizing factor in man, intersected between the causal primary instincts and the resulting actions. In that way imagination and intelligence enter into our existence in the part of servants of the primary instincts. But their intervention makes our acts to serve ever less merely the immediate claims of our instincts.

— Albert Einstein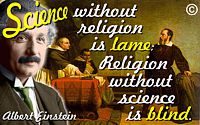 "Galileo Facing the Roman Inquisition," by Christiano Banti.
(source)