(source)

Albert Einstein

(14 Mar 1879 - 18 Apr 1955)




~~[Reinterpretation]~~ The significant problems we face cannot be solved at the same level of thinking we were at when we created them.

— Albert Einstein

Anyone who thinks science is trying to make human life easier or more pleasant is utterly mistaken.

— Albert Einstein

As regards religion, on the other hand, one is generally agreed that it deals with goals and evaluations and, in general, with the emotional foundation of human thinking and acting, as far as these are not predetermined by the inalterable hereditary disposition of the human species. Religion is concerned with man's attitude toward nature at large, with the establishing of ideals for the individual and communal life, and with mutual human relationship. These ideals religion attempts to attain by exerting an educational influence on tradition and through the development and promulgation of certain easily accessible thoughts and narratives (epics and myths) which are apt to influence evaluation and action along the lines of the accepted ideals.

— Albert Einstein

However, all scientific statements and laws have one characteristic in common: they are "true or false" (adequate or inadequate). Roughly speaking, our reaction to them is "yes" or "no." The scientific way of thinking has a further characteristic. The concepts which it uses to build up its coherent systems are not expressing emotions. For the scientist, there is only "being," but no wishing, no valuing, no good, no evil; no goal. As long as we remain within the realm of science proper, we can never meet with a sentence of the type: "Thou shalt not lie." There is something like a Puritan's restraint in the scientist who seeks truth: he keeps away from everything voluntaristic or emotional.

— Albert Einstein

I do not think words alone will solve humanity's present problems. The sound of bombs drowns out men's voices. In times of peace I have great faith in the communication of ideas among thinking men, but today, with brute force dominating so many millions of lives, I fear that the appeal to man's intellect is fast becoming virtually meaningless.

— Albert Einstein

In light of new knowledge ... an eventual world state is not just desirable in the name of brotherhood, it is necessary for survival ... Today we must abandon competition and secure cooperation. This must be the central fact in all our considerations of international affairs; otherwise we face certain disaster. Past thinking and methods did not prevent world wars. Future thinking must prevent wars.

— Albert Einstein

It is also vital to a valuable education that independent critical thinking be developed in the young human being, a development that is greatly jeopardized by overburdening with too much and too varied subjects. Overburdening necessarily leads to superficiality.

— Albert Einstein

It is an irony of fate that I myself have been the recipient of excessive admiration and reverence from my fellow-beings, through no fault, and no merit, of my own. The cause of this may well be the desire, unattainable for many, to understand the few ideas to which I have with my feeble powers attained through ceaseless struggle. I am quite aware that for any organisation to reach its goals, one man must do the thinking and directing and generally bear the responsibility. But the led must not be coerced, they must be able to choose their leader.

— Albert Einstein

It is certainly true that principles cannot be more securely founded than on experience and consciously clear thinking.

— Albert Einstein

Many persons have inquired concerning a recent message of mine that "a new type of thinking is essential if mankind is to survive and move to higher levels."

— Albert Einstein

Often in evolutionary processes a species must adapt to new conditions in order to survive. Today the atomic bomb has altered profoundly the nature of the world as we know it, and the human race consequently finds itself in a new habitat to which it must adapt its thinking.

— Albert Einstein

Only the individual can think, and thereby create new values for society–nay, even set up new moral standards to which the life of the community conforms. Without creative, independently thinking and judging personalities the upward development of society is as unthinkable as the development of the individual personality without the nourishing soil of the community.

— Albert Einstein

Our world faces a crisis as yet unperceived by those possessing power to make great decisions for good or evil. The unleashed power of the atom has changed everything save our modes of thinking and we thus drift toward unparalleled catastrophe. We scientists who released this immense power have an overwhelming responsibility in this world life-and-death struggle to harness the atom for the benefit of mankind and not for humanity's destruction. … We need two hundred thousand dollars at once for a nation-wide campaign to let people know that a new type of thinking is essential if mankind is to survive and move toward higher levels. This appeal is sent to you only after long consideration of the immense crisis we face. … We ask your help at this fateful moment as a sign that we scientists do not stand alone.

— Albert Einstein

Reading, after a certain age, diverts the mind too much from its creative pursuits. Any man who reads too much and uses his own brain too little falls into lazy habits of thinking.

— Albert Einstein

The efforts of most human-beings are consumed in the struggle for their daily bread, but most of those who are, either through fortune or some special gift, relieved of this struggle are largely absorbed in further improving their worldly lot. Beneath the effort directed toward the accumulation of worldly goods lies all too frequently the illusion that this is the most substantial and desirable end to be achieved; but there is, fortunately, a minority composed of those who recognize early in their lives that the most beautiful and satisfying experiences open to humankind are not derived from the outside, but are bound up with the development of the individual's own feeling, thinking and acting. The genuine artists, investigators and thinkers have always been persons of this kind. However inconspicuously the life of these individuals runs its course, none the less the fruits of their endeavors are the most valuable contributions which one generation can make to its successors.

— Albert Einstein

The physicist cannot simply surrender to the philosopher the critical contemplation of the theoretical foundations for he himself knows best and feels most surely where the shoe pinches. … he must try to make clear in his own mind just how far the concepts which he uses are justified … The whole of science is nothing more than a refinement of everyday thinking. It is for this reason that the critical thinking of the physicist cannot possibly be restricted by the examination of the concepts of his own specific field. He cannot proceed without considering critically a much more difficult problem, the problem of analyzing the nature of everyday thinking.

— Albert Einstein

The unleashed power of the atom has changed everything save our modes of thinking and we thus drift toward unparalleled catastrophe.

— Albert Einstein

The whole of science is nothing more than a refinement of everyday thinking.

— Albert Einstein

These were errors in thinking which caused me two years of hard work before at last, in 1915, I recognised them as such. … The final results appear almost simple; any intelligent undergraduate can understand them without much trouble. But the years of searching in the dark for a truth that one feels, but cannot express; the intense desire and the alternations of confidence and misgiving, until one breaks through to clarity and understanding, are only known to him who has himself experienced them.

— Albert Einstein

Through purely logical thinking we can attain no knowledge whatsoever of the empirical world.

— Albert Einstein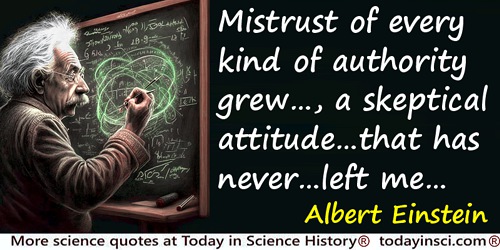 Through the reading of popular scientific books I soon reached the conviction that much in the stories of the Bible could not be true. The consequence was a positively fanatic [orgy of] freethinking coupled with the impression that youth is intentionally being deceived by the state through lies; it was a crushing impression. Mistrust of every kind of authority grew out of this experience, a skeptical attitude toward the convictions that were alive in any specific social environment–an attitude that has never again left me, even though, later on, it has been tempered by a better insight into the causal connections.

— Albert Einstein

Unthinking respect for authority is the greatest enemy of truth.

— Albert Einstein

We can't solve problems by using the same kind of thinking we used when we created them.

— Albert Einstein

Working is thinking, hence it is not always easy to give an exact accounting of one's time. Usually I work about four to six hours a day. I am not a very diligent man.

— Albert Einstein

Working on the final formulation of technological patents was a veritable blessing for me. It enforced many-sided thinking and also provided important stimuli to physical thought. Academia places a young person under a kind of compulsion to produce impressive quantities of scientific publications–a temptation to superficiality.

— Albert Einstein