(source)

Albert Einstein

(14 Mar 1879 - 18 Apr 1955)




If you wish to learn from the theoretical physicist anything about the methods which he uses, I would give you the following piece of advice: Don't listen to his words, examine his achievements. For to the discoverer in that field, the constructions of his imagination appear so necessary and so natural that he is apt to treat them not as the creations of his thoughts but as given realities.

— Albert Einstein

It would not be difficult to come to an agreement as to what we understand by science. Science is the century-old endeavor to bring together by means of systematic thought the perceptible phenomena of this world into as thoroughgoing an association as possible. To put it boldly, it is the attempt at the posterior reconstruction of existence by the process of conceptualization. But when asking myself what religion is I cannot think of the answer so easily. And even after finding an answer which may satisfy me at this particular moment, I still remain convinced that I can never under any circumstances bring together, even to a slight extent, the thoughts of all those who have given this question serious consideration.

— Albert Einstein

Man tries to make for himself in the fashion that suits him best a simplified and intelligible picture of the world; he then tries to some extent to substitute this cosmos of his for the world of experience, and thus to overcome it. This is what the painter, the poet, the speculative philosopher, and the natural scientist do, each in his own fashion. Each makes this cosmos and its construction the pivot of his emotional life, in order to find in this way the peace and security which he cannot find in the narrow whirlpool of personal experience.

— Albert Einstein

Now it came to me: … the independence of the gravitational acceleration from the nature of the falling substance, may be expressed as follows: In a gravitational field (of small spatial extension) things behave as they do in a space free of gravitation. … This happened in 1908. Why were another seven years required for the construction of the general theory of relativity? The main reason lies in the fact that it is not so easy to free oneself from the idea that coordinates must have an immediate metrical meaning.

— Albert Einstein

Our experience up to date justifies us in feeling sure that in Nature is actualized the ideal of mathematical simplicity. It is my conviction that pure mathematical construction enables us to discover the concepts and the laws connecting them, which gives us the key to understanding nature… In a certain sense, therefore, I hold it true that pure thought can grasp reality, as the ancients dreamed.

— Albert Einstein

Some recent work by E. Fermi and L. Szilard, which has been communicated to me in manuscript, leads me to expect that the element uranium may be turned into a new and important source of energy in the immediate future. Certain aspects of the situation seem to call for watchfulness and, if necessary, quick action on the part of the Administration. …
In the course of the last four months it has been made probable … that it may become possible to set up nuclear chain reactions in a large mass of uranium, by which vast amounts of power and large quantities of new radium-like elements would be generated. Now it appears almost certain that this could be achieved in the immediate future.
This new phenomenon would also lead to the construction of bombs, and it is conceivable—though much less certain—that extremely powerful bombs of a new type may thus be constructed. A single bomb of this type, carried by boat or exploded in a port, might well destroy the whole port altogether with some of the surrounding territory. However, such bombs might well prove to be too heavy for transportation by air.

— Albert Einstein

The human mind has first to construct forms, independently, before we can find them in things.

— Albert Einstein

The supreme task of the physicist is to arrive at those universal elementary laws from which the cosmos can be built up by pure deduction. There is no logical path to these laws; only intuition, resting on sympathetic understanding of experience, can reach them. In this methodological uncertainty, one might suppose that there were any number of possible systems of theoretical physics all equally well justified; and this opinion is no doubt correct, theoretically. But the development of physics has shown that at any given moment, out of all conceivable constructions, a single one has always proved itself decidedly superior to all the rest.

— Albert Einstein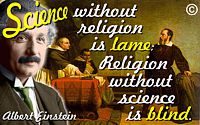 "Galileo Facing the Roman Inquisition," by Christiano Banti.
(source)