(source)

Albert Einstein

(14 Mar 1879 - 18 Apr 1955)




If you wish to learn from the theoretical physicist anything about the methods which he uses, I would give you the following piece of advice: Don't listen to his words, examine his achievements. For to the discoverer in that field, the constructions of his imagination appear so necessary and so natural that he is apt to treat them not as the creations of his thoughts but as given realities.

— Albert Einstein

Man tries to make for himself in the fashion that suits him best a simplified and intelligible picture of the world; he then tries to some extent to substitute this cosmos of his for the world of experience, and thus to overcome it. This is what the painter, the poet, the speculative philosopher, and the natural scientist do, each in his own fashion. Each makes this cosmos and its construction the pivot of his emotional life, in order to find in this way the peace and security which he cannot find in the narrow whirlpool of personal experience.

— Albert Einstein

Our experience up to date justifies us in feeling sure that in Nature is actualized the ideal of mathematical simplicity. It is my conviction that pure mathematical construction enables us to discover the concepts and the laws connecting them, which gives us the key to understanding nature… In a certain sense, therefore, I hold it true that pure thought can grasp reality, as the ancients dreamed.

— Albert Einstein

Some recent work by E. Fermi and L. Szilard, which has been communicated to me in manuscript, leads me to expect that the element uranium may be turned into a new and important source of energy in the immediate future. Certain aspects of the situation seem to call for watchfulness and, if necessary, quick action on the part of the Administration. …
This new phenomenon would also lead to the construction of bombs, and it is conceivable—though much less certain—that extremely powerful bombs of a new type may thus be constructed. A single bomb of this type, carried by boat or exploded in a port, might well destroy the whole port altogether with some of the surrounding territory. However, such bombs might well prove to be too heavy for transportation by air.

— Albert Einstein

The human mind has first to construct forms, independently, before we can find them in things.

— Albert Einstein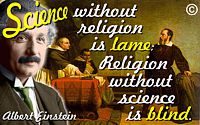 "Galileo Facing the Roman Inquisition," by Christiano Banti.
(source)