(source)

Albert Einstein

(14 Mar 1879 - 18 Apr 1955)




I do not think words alone will solve humanity's present problems. The sound of bombs drowns out men's voices. In times of peace I have great faith in the communication of ideas among thinking men, but today, with brute force dominating so many millions of lives, I fear that the appeal to man's intellect is fast becoming virtually meaningless.

— Albert Einstein

If you want to find out anything from the theoretical physicists about the methods they use, I advise you to stick closely to one principle: don't listen to their words, fix your attention on their deeds. To him who is a discoverer in this field the products of his imagination appear so necessary and natural that he regards them, and would like to have them regarded by others, not as creations of thought but as given realities.

— Albert Einstein

If you wish to learn from the theoretical physicist anything about the methods which he uses, I would give you the following piece of advice: Don't listen to his words, examine his achievements. For to the discoverer in that field, the constructions of his imagination appear so necessary and so natural that he is apt to treat them not as the creations of his thoughts but as given realities.

— Albert Einstein

It is difficult even to attach a precise meaning to the term "scientific truth." So different is the meaning of the word "truth" according to whether we are dealing with a fact of experience, a mathematical proposition or a scientific theory. "Religious truth" conveys nothing clear to me at all.

— Albert Einstein

What distinguishes the language of science from language as we ordinarily understand the word? … What science strives for is an utmost acuteness and clarity of concepts as regards their mutual relation and their correspondence to sensory data.

— Albert Einstein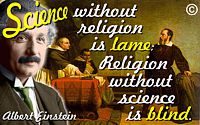 "Galileo Facing the Roman Inquisition," by Christiano Banti.
(source)