(source)

Albert Einstein

(14 Mar 1879 - 18 Apr 1955)




I believe in intuition and inspiration. Imagination is more important than knowledge. For knowledge is limited, whereas imagination embraces the entire world, stimulating progress, giving birth to evolution. It is, strictly speaking, a real factor in scientific research.

— Albert Einstein

I believe with Schopenhauer that one of the strongest motives that lead men to art and science is escape from everyday life with its painful crudity and hopeless dreariness, from the fetters of one's own ever shifting desires. A finely tempered nature longs to escape from personal life into the world of objective perception and thought; this desire may be compared with the townsman's irresistible longing to escape from his noisy, cramped surroundings into the silence of high mountains, where the eye ranges freely through the still, pure air and fondly traces out the restful contours apparently built for eternity.

— Albert Einstein

I cannot seriously believe in it [quantum theory] because the theory cannot be reconciled with the idea that physics should represent a reality in time and space, free from spooky actions at a distance [spukhafte Fernwirkungen].

— Albert Einstein

I do not believe that a moral philosophy can ever be founded on a scientific basis. … The valuation of life and all its nobler expressions can only come out of the soul's yearning toward its own destiny. Every attempt to reduce ethics to scientific formulas must fail. Of that I am perfectly convinced.

— Albert Einstein

Nobody knows how the stand of our knowledge about the atom would be without him. Personally, [Niels] Bohr is one of the amiable colleagues I have met. He utters his opinions like one perpetually groping and never like one who believes himself to be in possession of the truth.

— Albert Einstein

Now [Michele Besso] has departed from this strange world a little ahead of me. That signifies nothing. For us believing in physicists, the distinction between past, present and future is only a stubbornly persistent illusion.

— Albert Einstein

Physical concepts are free creations of the human mind, and are not, however it may seem, uniquely determined by the external world. In our endeavour to understand reality we are somewhat like a man trying to understand the mechanism of a closed watch. He sees the face and the moving hands, even hears its ticking, but he has no way of opening the case. If he is ingenious he may form some picture of a mechanism which could be responsible for all the things he observes, but he may never be quite sure his picture is the only one which could explain his observations. He will never be able to compare his picture with the real mechanism and he cannot even imagine the possibility or the meaning of such a comparison. But he certainly believes that, as his knowledge increases, his picture of reality will become simpler and simpler and will explain a wider and wider range of his sensuous impressions. He may also believe in the existence of the ideal limit of knowledge and that it is approached by the human mind. He may call this ideal limit the objective truth.

— Albert Einstein

Scientific research is based on the idea that everything that takes place is determined by laws of nature, and therefore this holds for the actions of people. For this reason, a research scientist will hardly be inclined to believe that events could be influenced by a prayer, i.e. by a wish addressed to a supernatural Being.
However, it must be admitted that our actual knowledge of these laws is only imperfect and fragmentary, so that, actually, the belief in the existence of basic all-embracing laws in Nature also rests on a sort of faith. All the same this faith has been largely justified so far by the success of scientific research.

— Albert Einstein

You believe in the God who plays dice, and I in complete law and order in a world that objectively exists, and which I, in a wildly speculative way, am trying to capture. … Even the great initial success of the quantum theory does not make me believe in the fundamental dice-game, although I am well aware that our younger colleagues interpret this as a consequence of senility. No doubt the day will come when we will see whose instinctive attitude was the correct one.

— Albert Einstein

You make experiments and I make theories. Do you know the difference? A theory is something nobody believes, except the person who made it. An experiment is something everybody believes, except the person who made it.
Remark to Hermann F. Mark.

— Albert Einstein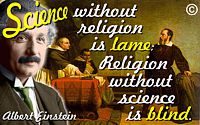 "Galileo Facing the Roman Inquisition," by Christiano Banti.
(source)