(source)

Albert Einstein

(14 Mar 1879 - 18 Apr 1955)




[Misquotation? Probably not by Einstein.] We owe a lot to the Indians, who taught us how to count, without which no worthwhile scientific discovery could have been made.

— Albert Einstein

A conflict arises when a religious community insists on the absolute truthfulness of all statements recorded in the Bible. This means an intervention on the part of religion into the sphere of science; this is where the struggle of the Church against the doctrines of Galileo and Darwin belongs. On the other hand, representatives of science have often made an attempt to arrive at fundamental judgments with respect to values and ends on the basis of scientific method, and in this way have set themselves in opposition to religion. These conflicts have all sprung from fatal errors.

— Albert Einstein

Cosmic religiousness is the strongest and most noble driving force of scientific research.

— Albert Einstein

Every serious scientific worker is painfully conscious of this involuntary relegation to an ever-narrowing sphere of knowledge, which threatens to deprive the investigator of his broad horizon and degrades him to the level of a mechanic.

— Albert Einstein

For scientific endeavor is a natural whole the parts of which mutually support one another in a way which, to be sure, no one can anticipate.

— Albert Einstein

However, all scientific statements and laws have one characteristic in common: they are "true or false" (adequate or inadequate). Roughly speaking, our reaction to them is "yes" or "no." The scientific way of thinking has a further characteristic. The concepts which it uses to build up its coherent systems are not expressing emotions. For the scientist, there is only "being," but no wishing, no valuing, no good, no evil; no goal. As long as we remain within the realm of science proper, we can never meet with a sentence of the type: "Thou shalt not lie." There is something like a Puritan's restraint in the scientist who seeks truth: he keeps away from everything voluntaristic or emotional.

— Albert Einstein

I assert that the cosmic religious experience is the strongest and the noblest driving force behind scientific research.

— Albert Einstein

I believe in intuition and inspiration. Imagination is more important than knowledge. For knowledge is limited, whereas imagination embraces the entire world, stimulating progress, giving birth to evolution. It is, strictly speaking, a real factor in scientific research.

— Albert Einstein

I do not believe that a moral philosophy can ever be founded on a scientific basis. … The valuation of life and all its nobler expressions can only come out of the soul's yearning toward its own destiny. Every attempt to reduce ethics to scientific formulas must fail. Of that I am perfectly convinced.

— Albert Einstein

I have never looked upon ease and happiness as ends in themselves–this critical basis I call the ideal of a pigsty. The ideals that have lighted my way, and time after time have given me new courage to face life cheerfully, have been Kindness, Beauty, and Truth. Without the sense of kinship with men of like mind, without the occupation with the objective world, the eternally unattainable in the field of art and scientific endeavors, life would have seemed empty to me. The trite objects of human efforts–possessions, outward success, luxury–have always seemed to me contemptible.

— Albert Einstein

If we consider that part of the theory of relativity which may nowadays in a sense be regarded as bone fide scientific knowledge, we note two aspects which have a major bearing on this theory. The whole development of the theory turns on the question of whether there are physically preferred states of motion in Nature (physical relativity problem). Also, concepts and distinctions are only admissible to the extent that observable facts can be assigned to them without ambiguity (stipulation that concepts and distinctions should have meaning). This postulate, pertaining to epistemology, proves to be of fundamental importance.

— Albert Einstein

In my opinion it is not right to bring politics into scientific matters, nor should individuals be held responsible for the government of the country to which they happen to belong.

— Albert Einstein

It is difficult even to attach a precise meaning to the term "scientific truth." So different is the meaning of the word "truth" according to whether we are dealing with a fact of experience, a mathematical proposition or a scientific theory. "Religious truth" conveys nothing clear to me at all.

— Albert Einstein

It is not the fruits of scientific research that elevate man and enrich his nature but the urge to understand, the intellectual work, creative or receptive.

— Albert Einstein

It is therefore easy to see why the churches have always fought science and persecuted its devotees. On the other hand, I maintain that the cosmic religious feeling is the strongest and noblest motive for scientific research. Only those who realize the immense efforts and, above all, the devotion without which pioneer work in theoretical science cannot be achieved are able to grasp the strength of the emotion out of which alone such work, remote as it is from the immediate realities of life, can issue. What a deep conviction of the rationality of the universe and what a yearning to understand, were it but a feeble reflection of the mind revealed in this world, Kepler and Newton must have had to enable them to spend years of solitary labor in disentangling the principles of celestial mechanics! Those whose acquaintance with scientific research is derived chiefly from its practical results easily develop a completely false notion of the mentality of the men who, surrounded by a skeptical world, have shown the way to kindred spirits scattered wide through the world and through the centuries. Only one who has devoted his life to similar ends can have a vivid realization of what has inspired these men and given them the strength to remain true to their purpose in spite of countless failures. It is cosmic religious feeling that gives a man such strength. A contemporary has said, not unjustly, that in this materialistic age of ours the serious scientific workers are the only profoundly religious people.

— Albert Einstein

It was my good fortune to be linked with Mme. Curie through twenty years of sublime and unclouded friendship. I came to admire her human grandeur to an ever growing degree. Her strength, her purity of will, her austerity toward herself, her objectivity, her incorruptible judgement—all these were of a kind seldom found joined in a single individual… The greatest scientific deed of her life—proving the existence of radioactive elements and isolating them—owes its accomplishment not merely to bold intuition but to a devotion and tenacity in execution under the most extreme hardships imaginable, such as the history of experimental science has not often witnessed.

— Albert Einstein

It would be possible to describe absolutely everything scientifically, but it would make no sense. It would be without meaning, as if you described a Beethoven symphony as a variation of wave pressure.

— Albert Einstein

My scientific work is motivated by an irresistible longing to understand the secrets of nature and by no other feeling. My love for justice and striving to contribute towards the improvement of human conditions are quite independent from my scientific interests.

— Albert Einstein

One scientific epoch ended and another began with James Clerk Maxwell.

— Albert Einstein

Our time is distinguished by wonderful achievements in the fields of scientific understanding and the technical application of those insights. Who would not be cheered by this? But let us not forget that human knowledge and skills alone cannot lead humanity to a happy and dignified life. Humanity has every reason to place the proclaimers of high moral standards and values above the discoverers of objective truth. What humanity owes to personalities like Buddha, Moses, and Jesus ranks for me higher than all the achievements of the inquiring constructive mind.

— Albert Einstein

Science is a wonderful thing if one does not have to earn one's living at it. One should earn one's living by work of which one is sure one is capable. Only when we do not have to be accountable to anybody can we find joy in scientific endeavor.

— Albert Einstein

Scientific research can reduce superstition by encouraging people to think and survey things in terms of cause and effect. Certain it is that a conviction, akin to religious feeling, of the rationality or intelligibility of the world lies behind all scientific work of a higher order.

— Albert Einstein

Scientific research is based on the idea that everything that takes place is determined by laws of nature, and therefore this holds for the actions of people. For this reason, a research scientist will hardly be inclined to believe that events could be influenced by a prayer, i.e. by a wish addressed to a supernatural Being.
However, it must be admitted that our actual knowledge of these laws is only imperfect and fragmentary, so that, actually, the belief in the existence of basic all-embracing laws in Nature also rests on a sort of faith. All the same this faith has been largely justified so far by the success of scientific research.

— Albert Einstein

The more a man is imbued with the ordered regularity of all events the firmer becomes his conviction that there is no room left by the side of this ordered regularity for causes of a different nature. For him neither the rule of human nor the rule of divine will exists as an independent cause of natural events. To be sure, the doctrine of a personal God interfering with natural events could never be refuted, in the real sense, by science, for this doctrine can always take refuge in those domains in which scientific knowledge has not yet been able to set foot.

— Albert Einstein

The process of scientific discovery is, in effect, a continual flight from wonder.

— Albert Einstein

The scientific theorist is not to be envied. For Nature, or more precisely experiment, is an inexorable and not very friendly judge of his work. It never says "Yes" to a theory. In the most favorable cases it says "Maybe," and in the great majority of cases simply "No." If an experiment agrees with a theory it means for the latter "Maybe," and if it does not agree it means "No." Probably every theory will someday experience its "No"—most theories, soon after conception.

— Albert Einstein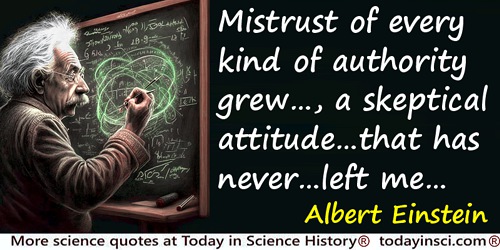 Through the reading of popular scientific books I soon reached the conviction that much in the stories of the Bible could not be true. The consequence was a positively fanatic [orgy of] freethinking coupled with the impression that youth is intentionally being deceived by the state through lies; it was a crushing impression. Mistrust of every kind of authority grew out of this experience, a skeptical attitude toward the convictions that were alive in any specific social environment–an attitude that has never again left me, even though, later on, it has been tempered by a better insight into the causal connections.

— Albert Einstein

We reverence ancient Greece as the cradle of western science. Here for the first time the world witnessed the miracle of a logical system which proceeded from step to step with such precision that every single one of its propositions was absolutely indubitable—I refer to Euclid's geometry. This admirable triumph of reasoning gave the human intellect the necessary confidence in itself for its subsequent achievements. If Euclid failed to kindle your youthful enthusiasm, then you were not born to be a scientific thinker.

— Albert Einstein

When the number of factors coming into play in a phenomenological complex is too large, scientific method in most cases fails us. One need only think of the weather, in which case prediction even for a few days ahead is impossible. Nevertheless no one doubts that we are confronted with a causal connection whose causal components are in the main known to us.

— Albert Einstein

While it is true that scientific results are entirely independent from religious and moral considerations, those individuals to whom we owe the great creative achievements of science were all of them imbued with the truly religious conviction that this universe of ours is something perfect and susceptible to the rational striving for knowledge. If this conviction had not been a strongly emotional one and if those searching for knowledge had not been inspired by Spinoza's Amor Dei Intellectualis, they would hardly have been capable of that untiring devotion which alone enables man to attain his greatest achievements.

— Albert Einstein

Working on the final formulation of technological patents was a veritable blessing for me. It enforced many-sided thinking and also provided important stimuli to physical thought. Academia places a young person under a kind of compulsion to produce impressive quantities of scientific publications–a temptation to superficiality.

— Albert Einstein