(source)

Albert Einstein

(14 Mar 1879 - 18 Apr 1955)




[Almost certainly not by Einstein.] The more I study science, the more I believe in God.

— Albert Einstein

A person who is religiously enlightened appears to me to be one who has, to the best of his ability, liberated himself from the fetters of his selfish desires and is preoccupied with thoughts, feelings, and aspirations to which he clings because of their superpersonal value. It seems to me that what is important is the force of this superpersonal content and the depth of the conviction concerning its overpowering meaningfulness, regardless of whether any attempt is made to unite this content with a divine Being, for otherwise it would not be possible to count Buddha and Spinoza as religious personalities. Accordingly, a religious person is devout in the sense that he has no doubt of the significance and loftiness of those superpersonal objects and goals which neither require nor are capable of rational foundation. They exist with the same necessity and matter-of-factness as he himself. In this sense religion is the age-old endeavor of mankind to become clearly and completely conscious of these values and goals and constantly to strengthen and extend their effect. If one conceives of religion and science according to these definitions then a conflict between them appears impossible. For science can only ascertain what is, but not what should be, and outside of its domain value judgments of all kinds remain necessary.

— Albert Einstein

All religions, arts and sciences are branches of the same tree. All these aspirations are directed toward ennobling man's life, lifting it from the sphere of mere physical existence and leading the individual towards freedom.

— Albert Einstein

Does there truly exist an insuperable contradiction between religion and science? Can religion be superseded by science? The answers to these questions have, for centuries, given rise to considerable dispute and, indeed, bitter fighting. Yet, in my own mind there can be no doubt that in both cases a dispassionate consideration can only lead to a negative answer. What complicates the solution, however, is the fact that while most people readily agree on what is meant by 'science,' they are likely to differ on the meaning of 'religion.'

— Albert Einstein

Even though the realms of religion and science in themselves are clearly marked off from each other, nevertheless there exist between the two strong reciprocal relationships and dependencies. Though religion may be that which determines the goal, it has, nevertheless, learned from science, in the broadest sense, what means will contribute to the attainment of the goals it has set up. But science can only be created by those who are thoroughly imbued with the aspiration toward truth and understanding. This source of feeling, however, springs from the sphere of religion. To this there also belongs the faith in the possibility that the regulations valid for the world of existence are rational, that is, comprehensible to reason. I cannot conceive of a genuine scientist without that profound faith. The situation may be expressed by an image: science without religion is lame, religion without science is blind.

— Albert Einstein

For any one who is pervaded with the sense of causal law in all that happens, who accepts in real earnest the assumption of causality, the idea of a Being who interferes with the sequence of events in the world is absolutely impossible! Neither the religion of fear nor the social-moral religion can have, any hold on him. A God who rewards and punishes is for him unthinkable, because man acts in accordance with an inner and outer necessity, and would, in the eyes of God, be as little responsible as an inanimate object is for the movements which it makes. Science, in consequence, has been accused of undermining morals—but wrongly. The ethical behavior of man is better based on sympathy, education and social relationships, and requires no support from religion. Man's plight would, indeed, be sad if he had to be kept in order through fear of punishment and hope of rewards after death.

— Albert Einstein

I do not believe that a moral philosophy can ever be founded on a scientific basis. … The valuation of life and all its nobler expressions can only come out of the soul's yearning toward its own destiny. Every attempt to reduce ethics to scientific formulas must fail. Of that I am perfectly convinced.

— Albert Einstein

It is difficult even to attach a precise meaning to the term "scientific truth." So different is the meaning of the word "truth" according to whether we are dealing with a fact of experience, a mathematical proposition or a scientific theory. "Religious truth" conveys nothing clear to me at all.

— Albert Einstein

It was, of course, a lie what you read about my religious convictions, a lie which is being systematically repeated. I do not believe in a personal God and I have never denied this but have expressed it clearly. If something is in me which can be called religious then it is the unbounded admiration for the structure of the world so far as our science can reveal it.

— Albert Einstein

No path leads from a knowledge of that which is to that which should be.

— Albert Einstein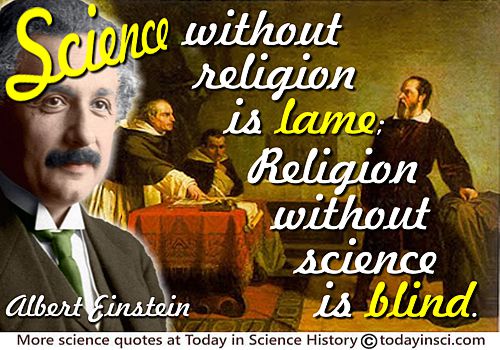 "Galileo Facing the Roman Inquisition," by Christiano Banti.
(source)
Science without religion is lame; religion without science is blind.

— Albert Einstein

Scientific research can reduce superstition by encouraging people to think and survey things in terms of cause and effect. Certain it is that a conviction, akin to religious feeling, of the rationality or intelligibility of the world lies behind all scientific work of a higher order.

— Albert Einstein

Scientific research is based on the idea that everything that takes place is determined by laws of nature, and therefore this holds for the actions of people. For this reason, a research scientist will hardly be inclined to believe that events could be influenced by a prayer, i.e. by a wish addressed to a supernatural Being.
However, it must be admitted that our actual knowledge of these laws is only imperfect and fragmentary, so that, actually, the belief in the existence of basic all-embracing laws in Nature also rests on a sort of faith. All the same this faith has been largely justified so far by the success of scientific research.

— Albert Einstein

The most beautiful and profound experience for a person is the feeling of the mysterious. It underlies religion and all deeper endeavors in art and science. Anyone who has not experienced this appears to me, if not like a dead man, at least like a blind man. To feel that behind the perceptible is hidden something that is incomprehensible, whose beauty and grandeur only reach us indirectly and in a dim reflection—that is religiousness. In that sense I am religious. It is enough for me to sense these secrets with wonder and to try to humbly grasp a faint image of the majestic structure of all things.

— Albert Einstein

The most beautiful emotion we can experience is the mystical. It is the power of all true art and science. He to whom this emotion is a stranger, who can no longer wonder and stand rapt in awe, is as good as dead. To know that what is impenetrable to us really exists, manifesting itself as the highest wisdom and the most radiant beauty, which our dull faculties can comprehend only in their most primitive forms — this knowledge, this feeling, is at the center of true religiousness. In this sense, and in this sense only, I belong to the rank of devoutly religious men.

— Albert Einstein

What a deep faith in the rationality of the structure of the world and what a longing to understand even a small glimpse of the reason revealed in the world there must have been in Kepler and Newton to enable them to unravel the mechanism of the heavens in long years of lonely work!

— Albert Einstein