(source)

Sigmund Freud

(6 May 1856 - 23 Sep 1939)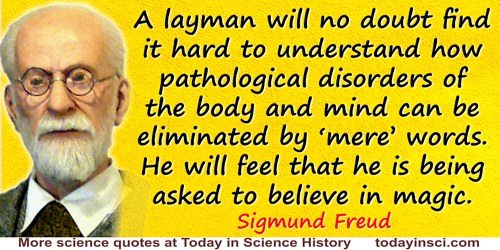 A layman will no doubt find it hard to understand how pathological disorders of the body and mind can be eliminated by 'mere' words. He will feel that he is being asked to believe in magic. And he will not be so very wrong, for the words which we use in our everyday speech are nothing other than watered-down magic. But we shall have to follow a roundabout path in order to explain how science sets about restoring to words a part at least of their former magical power.

— Sigmund Freud

Being in love with the one parent and hating the other are among the essential constituents of the stock of psychical impulses which is formed at that time and which is of such importance in determining the symptoms of the later neurosis... This discovery is confirmed by a legend that has come down to us from classical antiquity: a legend whose profound and universal power to move can only be understood if the hypothesis I have put forward in regard to the psychology of children has an equally universal validity. What I have in mind is the legend of King Oedipus and Sophocles' drama which bears his name.

— Sigmund Freud

Every dream will reveal itself as a psychological structure, full of significance.

— Sigmund Freud

In matters of sexuality we are at present, every one of us, ill or well, nothing but hypocrites.

— Sigmund Freud

In the course of centuries the naïve self-love of men has had to submit to two major blows at the hands of science. The first was when they learnt that our earth was not the centre of the universe but only a tiny fragment of a cosmic system of scarcely imaginable vastness... the second blow fell when biological research destroyed man's supposedly privileged place in creation and proved his descent from the animal kingdom and his ineradicable animal nature… But human megalomania will have suffered its third and most wounding blow from the psychological research of the present time which seeks to prove to the ego that it is not even master in its own house, but must content itself with scanty information of what is going on unconsciously in its mind.

— Sigmund Freud

In view of the kind of matter we work with, it will never be possible to avoid little laboratory explosions.

— Sigmund Freud

It might be said of psychoanalysis that if you give it your little finger, it will soon have your whole hand.

— Sigmund Freud

Neurosis is the result of a conflict between the ego and its id, whereas psychosis is the analogous outcome of a similar disturbance in the relation between the ego and the external world.

— Sigmund Freud

Sexuality is the key to the problem of the psychoneuroses and of the neuroses in general. No one who disdains the key will ever be able to unlock the door.

— Sigmund Freud

The ego is not master in its own house.

— Sigmund Freud

The excremental is all too intimately and inseparably bound up with the sexual; the position of the genitals—inter urinas et faeces—remains the decisive and unchangeable factor. One might say here, varying a well-known saying of the great Napoleon: 'Anatomy is destiny'.

— Sigmund Freud

The great question that has never been answered and which I have not been able to answer, despite my thirty years of research into the feminine soul, is 'What does a woman want?'
Freud once said to Marie Bonaparte.

— Sigmund Freud

The interpretation of dreams is the royal road to a knowledge of the unconscious activities of the mind.

— Sigmund Freud

The psychoanalysis of individual human beings, however, teaches us with quite special insistence that the god of each of them is formed in the likeness of his father, that his personal relation to God depends on his relation to his father in the flesh and oscillates and changes along with that relation, and that at bottom God is nothing other than an exalted father.

— Sigmund Freud

The unconscious is the true psychical reality; in its innermost nature it is as much unknown to us as the reality of the external world, and it is as incompletely presented by the data of consciousness as is the external world by the communications of our sense organs.

— Sigmund Freud

We may lay it down that a happy person never phantasises, only an unsatisfied one... The motive forces of phantasies are unsatisfied wishes, and every single phantasy is the fulfilment of a wish, a correction of unsatisfying reality. These motivating wishes vary according to the sex, character and circumstances of the person who is having the phantasy; but they fall naturally into two main groups. They are either ambitious wishes, which serve to elevate the subject's personality; or they are erotic ones. It was shocking when Nietzsche said this, but today it is commonplace; our historical position—and no end to it is in sight—is that of having to philosophise without 'foundations'.

— Sigmund Freud

You may take it as an instance of male injustice if I assert that envy and jealousy play an even greater part in the mental life of women than of men. It is not that I think these characteristics are absent in men or that I think they have no other roots in women than envy for the penis; but I am inclined to attribute their greater amount in women to this latter influence.

— Sigmund Freud

[The child] takes his play very seriously and he expends large amounts of emotion on it. The opposite of play is not what is serious but what is real.

— Sigmund Freud

See also:
6 May - short biography, births, deaths and events on date of Freud's birth.