Complementary Quotes (8 quotes)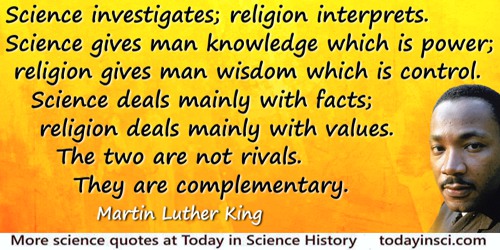 History without the history of science, to alter slightly an apothegm of Lord Bacon, resembles a statue of Polyphemus without his eye—that very feature being left out which most marks the spirit and life of the person. My own thesis is complementary: science taught ... without a sense of history is robbed of those very qualities that make it worth teaching to the student of the humanities and the social sciences.

If the structure that serves as a template (the gene or virus molecule) consists of, say, two parts, which are themselves complementary In structure, then each of these parts can serve as the mould for the production of a replica of the other part, and the complex of two complementary parts thus can serve as the mould for the production of duplicates of itself.

In the firmament of science Mayer and Joule constitute a double star, the light of each being in a certain sense complementary to that of the other.

Knowledge and wonder are the dyad of our worthy lives as intellectual beings. Voyager did wonders for our knowledge, but performed just as mightily in the service of wonder–and the two elements are complementary, not independent or opposed. The thought fills me with awe–a mechanical contraption that could fit in the back of a pickup truck, traveling through space for twelve years, dodging around four giant bodies and their associated moons, and finally sending exquisite photos across more than four light-hours of space from the farthest planet in our solar system.

There is no "pure" science itself divorced from human values. The importance of science to the humanities and the humanities to science in their complementary contribution to the variety of human life grows daily. The need for men familiar with both is imperative.

To us … the only acceptable point of view appears to be the one that recognizes both sides of reality—the quantitative and the qualitative, the physical and the psychical—as compatible with each other, and can embrace them simultaneously … It would be most satisfactory of all if physis and psyche (i.e., matter and mind) could be seen as complementary aspects of the same reality.

We should like to propose instead that the specificity of DNA self replication is accomplished without recourse to specific protein synthesis and that each of our complementary DNA chains serves as a template or mould for the formation onto itself of a new companion chain.
[Co-author with Francis Crick]

Without the slightest doubt there is something through which material and spiritual energy hold togehter and are complementary. In the last analysis, somehow or other, there must be a single energy operating in the world. And the first idea that occurs to us is that the 'soul' must be as it were the focal point of transformation at which, from all the points of nature, the forces of bodies converge, to become interiorised and sublimated in beauty and truth.