(source)

Richard P. Feynman

(11 May 1918 - 15 Feb 1988)




But the real glory of science is that we can find a way of thinking such that the law is evident.

— Richard P. Feynman

Everything is made of atoms ... Everything that animals do, atoms do. ... There is nothing that living things do that cannot be understood from the point of view that they are made of atoms acting according to the laws of physics.

— Richard P. Feynman

First, [Newton's Law of Universal Gravitation] is mathematical in its expression…. Second, it is not exact; Einstein had to modify it…. There is always an edge of mystery, always a place where we have some fiddling around to do yet…. But the most impressive fact is that gravity is simple…. It is simple, and therefore it is beautiful…. Finally, comes the universality of the gravitational law and the fact that it extends over such enormous distances…

— Richard P. Feynman

From a long view of the history of mankind—seen from, say, ten thousand years from now—there can be little doubt that the most significant event of the 19th century will be judged as Maxwell's discovery of the laws of electrodynamics. The American Civil War will pale into provincial insignificance in comparison with this important scientific event of the same decade.

— Richard P. Feynman

I think equation guessing might be the best method to proceed to obtain the laws for the part of physics which is presently unknown.

— Richard P. Feynman

If we go back to our chequer game, the fundamental laws are rules by which the chequers move. Mathematics may be applied in the complex situation to figure out what in given circumstances is a good move to make. But very little mathematics is needed for the simple fundamental character of the basic laws. They can be simply stated in English for chequers.

— Richard P. Feynman

In this lecture I would like to conclude with … some characteristics [of] gravity … The most impressive fact is that gravity is simple. It is simple to state the principles completely and not have left any vagueness for anybody to change the ideas of the law. It is simple, and therefore it is beautiful. It is simple in its pattern. I do not mean it is simple in its action—the motions of the various planets and the perturbations of one on the other can be quite complicated to work out, and to follow how all those stars in a globular cluster move is quite beyond our ability. It is complicated in its actions, but the basic pattern or the system beneath the whole thing is simple. This is common to all our laws; they all turn out to be simple things, although complex in their actual actions.

— Richard P. Feynman

It always bothers me that according to the laws as we understand them today, it takes a computing machine an infinite number of logical operations to figure out what goes on in no matter how tiny a region of space and no matter how tiny a region of time … I have often made the hypothesis that ultimately physics will not require a mathematical statement, that in the end the machinery will be revealed and the laws will turn out to be simple, like the chequer board with all its apparent complexities. But this speculation is of the same nature as those other people make—"I like it","I don't like it"—and it is not good to be too prejudiced about these things.

— Richard P. Feynman

It is going to be necessary that everything that happens in a finite volume of space and time would have to be analyzable with a finite number of logical operations. The present theory of physics is not that way, apparently. It allows space to go down into infinitesimal distances, wavelengths to get infinitely great, terms to be summed in infinite order, and so forth; and therefore, if this proposition [that physics is computer-simulatable] is right, physical law is wrong.

— Richard P. Feynman

On the contrary, God was always invented to explain mystery. God is always invented to explain those things that you do not understand. Now when you finally discover how something works, you get some laws which you're taking away from God; you don't need him anymore. But you need him for the other mysteries. So therefore you leave him to create the universe because we haven't figured that out yet; you need him for understanding those things which you don't believe the laws will explain, such as consciousness, or why you only live to a certain length of time—life and death—stuff like that. God is always associated with those things that you do not understand. Therefore, I don't think that the laws can be considered to be like God because they have been figured out.

— Richard P. Feynman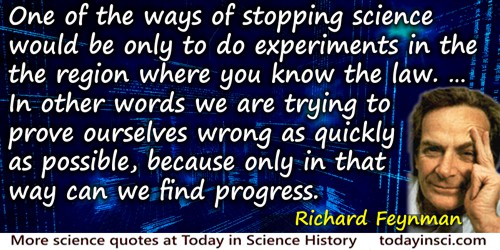 One of the ways of stopping science would be only to do experiments in the region where you know the law. … In other words we are trying to prove ourselves wrong as quickly as possible, because only in that way can we find progress.

— Richard P. Feynman

People say to me, "Are you looking for the ultimate laws of physics?" No, I'm not; I'm just looking to find out more about the world and if it turns out there is a simple ultimate law which explains everything, so be it; that would be very nice to discover. If it turns out it's like an onion with millions of layers, and we're just sick and tired of looking at the layers, then that's the way it is …

— Richard P. Feynman

The whole question of imagination in science is often misunderstood by people in other disciplines. They try to test our imagination in the following way. They say, "Here is a picture of some people in a situation. What do you imagine will happen next?" When we say, "I can't imagine," they may think we have a weak imagination. They overlook the fact that whatever we are allowed to imagine in science must be consistent with everything else we know; that the electric fields and the waves we talk about are not just some happy thoughts which we are free to make as we wish, but ideas which must be consistent with all the laws of physics we know. We can't allow ourselves to seriously imagine things which are obviously in contradiction to the laws of nature. And so our kind of imagination is quite a difficult game. One has to have the imagination to think of something that has never been seen before, never been heard of before. At the same time the thoughts are restricted in a strait jacket, so to speak, limited by the conditions that come from our knowledge of the way nature really is. The problem of creating something which is new, but which is consistent with everything which has been seen before, is one of extreme difficulty

— Richard P. Feynman

This law [of gravitation] has been called "the greatest generalization achieved by the human mind". … I am interested not so much in the human mind as in the marvel of a nature which can obey such an elegant and simple law as this law of gravitation. Therefore our main concentration will not be on how clever we are to have found it all out, but on how clever nature is to pay attention to it.

— Richard P. Feynman

We are very lucky to be living in an age in which we are still making discoveries. It is like the discovery of America—you only discover it once. The age in which we live is the age in which we are discovering the fundamental laws of nature, and that day will never come again. It is very exciting, it is marvelous, but this excitement will have to go.

— Richard P. Feynman

What of the future of this adventure? What will happen ultimately? We are going along guessing the laws; how many laws are we going to have to guess? I do not know. Some of my colleagues say that this fundamental aspect of our science will go on; but I think there will certainly not be perpetual novelty, say for a thousand years. This thing cannot keep on going so that we are always going to discover more and more new laws … It is like the discovery of America—you only discover it once. The age in which we live is the age in which we are discovering the fundamental laws of nature, and that day will never come again. Of course in the future there will be other interests … but there will not be the same things that we are doing now … There will be a degeneration of ideas, just like the degeneration that great explorers feel is occurring when tourists begin moving in on a territory.

— Richard P. Feynman

"Conservation" (the conservation law) means this … that there is a number, which you can calculate, at one moment—and as nature undergoes its multitude of changes, this number doesn't change. That is, if you calculate again, this quantity, it'll be the same as it was before. An example is the conservation of energy: there's a quantity that you can calculate according to a certain rule, and it comes out the same answer after, no matter what happens, happens.

— Richard P. Feynman