(source)

Sir William Osler

(12 Jul 1849 - 29 Dec 1919)




Science Quotes by Sir William Osler
(18 quotes)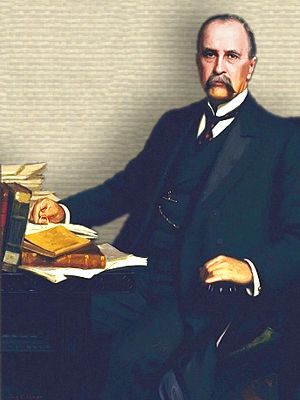 William Osler (1905)
Portrait by Thomas C. Corner
(source)
A desire to take medicine is, perhaps, the great feature which distinguishes man from other animals.

— Sir William Osler

A library … is a great catalyser, accelerating the nutrition and rate of progress in a profession.

— Sir William Osler

An old writer says that there are four sorts of readers: "Sponges which attract all without distinguishing; Howre-glasses which receive and powre out as fast; Bagges which only retain the dregges of the spices and let the wine escape, and Sives which retaine the best onelv." A man wastes a great many years before he reaches the 'sive' stage.

— Sir William Osler

At the outset do not be worried about this big question—Truth. It is a very simple matter if each one of you starts with the desire to get as much as possible. No human being is constituted to know the truth, the whole truth, and nothing but the truth; and even the best of men must be content with fragments, with partial glimpses, never the full fruition. In this unsatisfied quest the attitude of mind, the desire, the thirst—a thirst that from the soul must arise!—the fervent longing, are the be-all and the end-all.

— Sir William Osler

Even in populous districts, the practice of medicine is a lonely road which winds up-hill all the way and a man may easily go astray and never reach the Delectable Mountains unless he early finds those shepherd guides of whom Bunyan tells, Knowledge, Experience, Watchful, and Sincere.

— Sir William Osler

Fed on the dry husks of facts, the human heart has a hidden want which science cannot supply.

— Sir William Osler

In the Mortality Bills, pneumonia is an easy second, to tuberculosis; indeed in many cities the death-rate is now higher and it has become, to use the phrase of Bunyan 'the captain of the men of death.'

— Sir William Osler

Look wise, say nothing, and grunt. Speech was given to conceal thought.

— Sir William Osler

Medicine is a science of uncertainty and an art of probability.

— Sir William Osler

Now of the difficulties bound up with the public in which we doctors work, I hesitate to speak in a mixed audience. Common sense in matters medical is rare, and is usually in inverse ratio to the degree of education.

— Sir William Osler

Our bowels are outside of us—just a tucked-in portion.

— Sir William Osler

The extraordinary development of modern science may be her undoing. Specialism, now a necessity, has fragmented the specialities themselves in a way that makes the outlook hazardous. The workers lose all sense of proportion in a maze of minutiae.

— Sir William Osler

The future belongs to Science. More and more she will control the destinies of the nations. Already she has them in her crucible and on her balances.

— Sir William Osler

There are only two sorts of doctors: those who practice with their brains, and those who practice with their tongues.

— Sir William Osler

There is no more potent antidote to the corroding influence of mammon than the presence in the community of a body of men devoted to science, living for investigation and caring nothing for the lust of the eyes and the pride of life.

— Sir William Osler

To study the phenomenon of disease without books is to sail uncharted sea, while to study books without patients is not to go to sea at all.

— Sir William Osler

Varicose veins are the result of an improper selection of grandparents.
Indicating that varicose veins are hereditary.

— Sir William Osler

We are all dietetic sinners; only a small percent of what we eat nourishes us, the balance goes to waste and loss of energy .

— Sir William Osler

---
Quotes by others about Sir William Osler (1)
That ability to impart knowledge … what does it consist of? … a deep belief in the interest and importance of the thing taught, a concern about it amounting to a sort of passion. A man who knows a subject thoroughly, a man so soaked in it that he eats it, sleeps it and dreams it—this man can always teach it with success, no matter how little he knows of technical pedagogy. That is because there is enthusiasm in him, and because enthusiasm is almost as contagious as fear or the barber's itch. An enthusiast is willing to go to any trouble to impart the glad news bubbling within him. He thinks that it is important and valuable for to know; given the slightest glow of interest in a pupil to start with, he will fan that glow to a flame. No hollow formalism cripples him and slows him down. He drags his best pupils along as fast as they can go, and he is so full of the thing that he never tires of expounding its elements to the dullest.
This passion, so unordered and yet so potent, explains the capacity for teaching that one frequently observes in scientific men of high attainments in their specialties—for example, Huxley, Ostwald, Karl Ludwig, Virchow, Billroth, Jowett, William G. Sumner, Halsted and Osler—men who knew nothing whatever about the so-called science of pedagogy, and would have derided its alleged principles if they had heard them stated.

See also:
12 Jul - short biography, births, deaths and events on date of Osler's birth.
Sir William Osler - Excerpt from 'Books And Men' address (12 Jan 1901)
William Osler: A Life in Medicine, by Michael Bliss. - book suggestion.